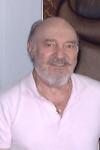 Sy the Dauber – "Member Empyrean"
Tamarac, Florida USA
Sy joined us at Passions in Poetry on July 7, 1999, a mere month after we opened our doors.  He was brought to us by his good friend,  Michael Mack, (Balladeer) – and quickly became one of our most loved and admired poets, spanning nearly a decade of wonderful PiP posting.
Sy was a man of many talents.  He was an artist, a writer, and a philosopher.  With 32,119 posts to his credit, Sy will be remembered for his daily morning postings where he shared his wisdom with us..
We have a wonderful page commemorating Sy and Isabel's Diamond Anniversary celebration at http://sy.netpoets.net – Please check in to see the two of them together.  He and Isabel traveled a great deal, and included a few  PiP conclaves in their schedules.  Many of us had the great pleasure of knowing Sy "in real time," and we're all grateful to have had those special times with him.
Sy's greatest love and inspiration in his life was his dear wife Isabel.  He speaks his heart to her many times in his poetic words.  His poetry can be researched through the "search" function in the PiPtalk forums.