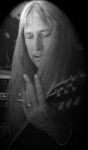 Fagin – "PiPtalk Member"
Arroyo Grande, California USA
"Robert Rilling" joined PiPtalk on May 7, 2004.  He began his life in Los Angeles, California, later growing into adulthood in Santa Maria, and spent his good times in San Luis Obispo and later in Arroyo Grande.  He stayed "near the sea" where all life begins, Sissie.  He had a child by his first wife, and in a second marriage, adopted his step-children who remained close to him at the end of his life. Relationships seemed difficult for him, because his first passion was, and remained to the end, his music.  Before ill health overrode his musical dreams, Robert helped form a couple of bands, the last being, "The Official Undertow,"and he enjoyed the process of creating music and writing lyrics by melding minds and psyches.  He worked in the computer field most of his adult life, before his illness kept him from moving on in life 24/7.  He knew life could be made better, by extending an open palm, an open heart, and an open mind.  He took those three things with him, and continues to play music to his heart's content.
Robert's poetry can still be read by searching our archives or clicking here.